If you're looking for ideas for designing a small house that's stylish and comfortable, you've come to the right place!
In this blog post, we'll provide you with some of our favorite interior design ideas for small houses. From simple but stylish decorating tips to stunning home staging ideas, we've got everything you need to create a beautiful and comfortable basement decoration inside your tiny home.
So whether you're just starting out on your tiny home journey or you're already living in one, check out our blog for inspiration!
Top 5 Amazing Interior Design Ideas for Small House
If you're looking to spruce up your small house but don't know where to start, check out our top 5 interior design ideas for small houses! These designs will help you create a spacious and stylish home that's perfect for all your needs. From modern to traditional, these designs will have your home looking its best in no time!
1. Maximize Natural Light
Renovating your small basement? Make use of natural light to your advantage! Natural light can help open up the space, making it bigger and brighter.
Here are some ideas to maximize natural light in your small home. Enjoy!
Choose light-colored walls
Lighten up your walls! Pale neutrals are a great choice for small homes. They'll help reflect natural light and create a bright atmosphere.
Stay away from dark colors; they'll absorb more light and make the room smaller and darker.
Incorporate reflective surfaces like mirrors and glass tables in your cool basement ideas. They'll help bounce the light around the room.
Install large windows
Huge windows bring in plenty of natural light which can make even small homes feel bright and cozy. If your home has limited exterior walls, large windows are the best option. They also give you more freedom when arranging your home's interior.
When choosing the windows, think about their direction relative to the sun and any shadows they may create. For example, during evening meals or bedtime.
Large windows are also perfect if you have an outdoor patio or deck to enjoy extra sunlight. Creating a smooth connection between the two areas.
Use reflective surfaces
To make a small room look bigger and brighter, use reflective surfaces. Mirrors, metallic hues and wallpapers are great for this. Place them in front of windows and angle them to reflect light into darker areas.
Fixtures and accessories with silver, gold and copper finishes also help to brighten the space. They catch direct sunlight and create highlights for tonal variation.
Maximize the benefits of natural light indoors! This will be one of the amazing interior design ideas for small house.
2. Create the Illusion of Space
Inhabiting a small house? No worries! There're design strategies to make it feel spacious. Start by creating an illusion of space. Get the right furniture, colors and lighting – then watch your small space expand!
Here's how to craft the illusion of space in a tiny house:
Use light-colored furniture
To make a small space appear bigger, use lighter furniture. Light colors reflect light, giving the illusion of more space. When furnishing a small room, go for furniture like dressers, benches, tables and chairs in light hues – such as white, gray or light wood.
You can also invest in tall furniture like mannequin cabinets and bookcases. This creates the feeling of extra height, helping to 'expand' the space – making it look larger than it is!
Use glass and mirrors
Glass and mirrors are great for making small rooms look bigger. Place a mirror opposite a window to reflect light and brighten up the room. Glass also helps create an illusion of space. Place glass items, like a coffee table with an open shelf, or use glass shelving on bookcases and wall shelves.
Transparency in a room breaks boundaries and gives a large feel, perfect for a small home!
Choose furniture with slim Silhouettes
When decorating a small house, opt for furniture with slim silhouettes. Space is limited, so make sure it doesn't take up too much! Low armrests, legs close to the floor and a height from back to seat create the illusion of bigger space. Make sure the piece fits comfortably in your home.
Maybe choose a two-seater instead of a three seater if the living room is too small. Additionally, standing lamps and tall shelving units draw the eye upwards, rather than outward. You can try some outstanding small basement ideas to maximize your space.
To save on furniture, consider pieces with multiple functions. Ottomans can be seating or storage, while sideboards offer storage and a place to display decor or dishes. This will be one of the amazing interior design ideas for small house.
3. Make the Most of Storage Space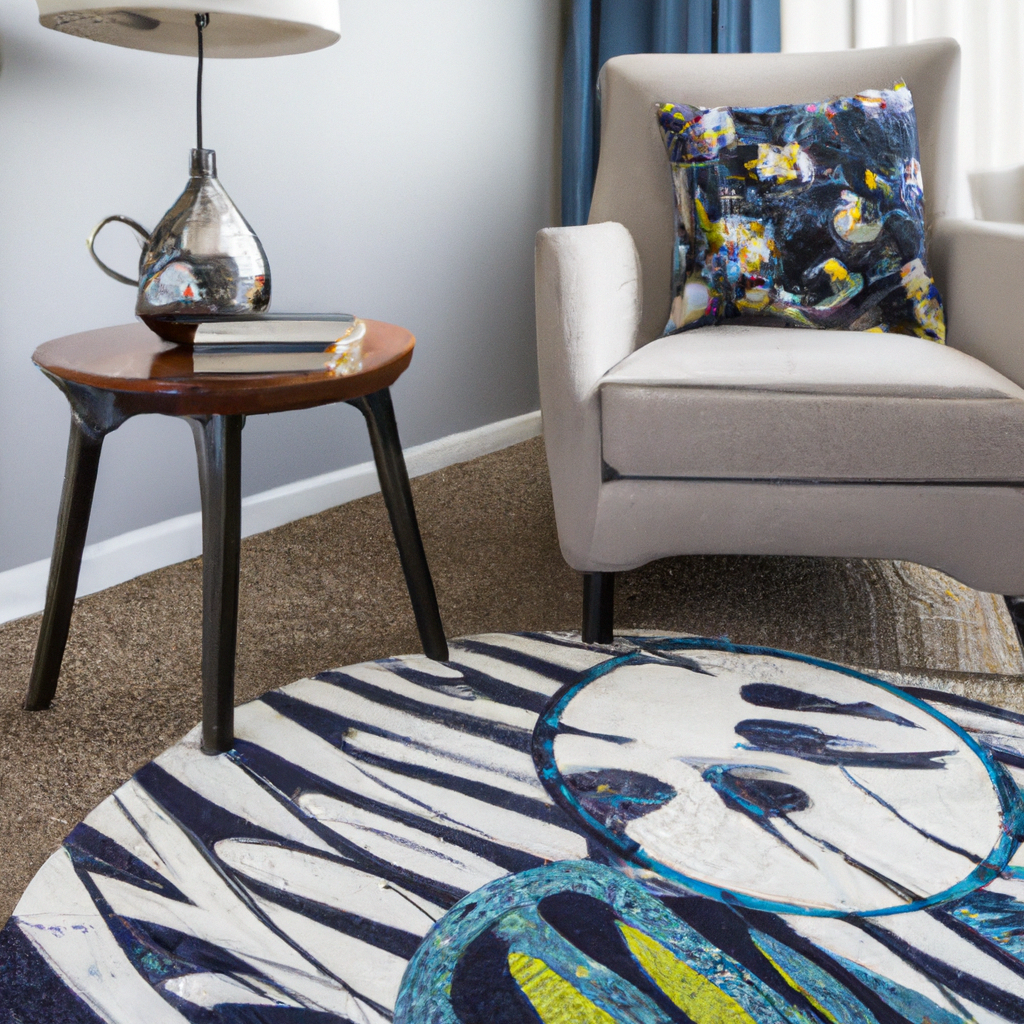 Interior design in a small house? Storage can be tricky. To make the most of the space in your home, it's time to get creative!
We'll go over ideas to maximize storage in a small house. Ideas include using corners and walls that are not in use and making the most of existing furniture.
Install shelves on walls.
Maximizing storage space in a small house often means utilizing every area. Installing shelves on the walls is a great option to add storage without taking up extra square footage. Shelves are perfect for books, small decorative pieces, and photo frames. Pick materials and colors that blend in with your home's aesthetics.
Wall shelves come in many styles. If you need additional surface area or storage, full-length shelving units can span from floor to ceiling. Shorter pieces can give your wall more personality and showcase a single area. Floating shelves are great for adding visual interest without overcrowding the room. Sleek metal brackets provide a timeless design that won't distract from other elements.
To add a unique touch to your walls, ladder shelves are a great option. They look like they're balancing precariously against the wall, creating an interesting contrast. When shopping for wall shelves, pay attention to weight capacity to ensure stability even when crowded.
Use multipurpose furniture
Multipurpose furniture is a great way to make the most of a small home's storage space. Look for pieces with compartments, shelves, cabinets, drawers, and cubbies. Think tall and pick low furniture. Get items that double as décor and storage. Shelving units with open and closed shelves are ideal.
Ottomans or seating with storage space beneath the cushion work too. They provide a comfy place to relax and store items.
Install cabinets and drawers
Installing storage shelves and cabinets is a great way to make the most of a small house. Strategize with the smart organization to use the space for clothes, linens, books, and food. Freestanding or built-in units work well along walls, under windows, and in alcoves. Mounting shelving above doorways or on the backs of doors optimizes storage potential.
Custom cabinetry is an attractive solution to create more efficient storage. Manufactured drawers and cabinets are available in many sizes to fit tight areas. Sliding pantry-style drawers tuck away into counter corners and provide easy access.
Renovating with the limited area? Cleverly installed cabinets and drawers allow you to maximize the existing square footage while creating a beautiful display area that elevates interior design. This will be one of the amazing interior design ideas for small houses.
4. Utilize Vertical Space
Designing a small house? Make use of the vertical space! Wall-to-ceiling storage, built-ins, and shelving are just some solutions. Utilizing vertical space can free up floor space and give the impression of a larger house.
Here are some ways to make use of vertical space in a small house interior design:
Hang curtains from the ceiling
In a small house, it's important to use vertical space. One way to do this is by hanging curtains from the ceiling. This gives an illusion of a bigger room. You can choose fabrics that are lightweight or darker.
Install tall curtain poles for visual interest and also for privacy. They can be paired with roller shades to warm your home in winter.
Install floating shelves
Floating shelves are ideal for small homes. They are perfect for maximizing vertical space. Position them above furniture or along walls for extra storage and visual interest. Variety in sizes and shapes will draw attention to certain room areas. Paint the shelves or walls behind a different color than the walls to add flair to your interior design.
Display plants, photos, knick-knacks, and books with floating shelves and create extra storage without taking up much room. Use glass and metal designs that blend into any space for a minimalist look.
Use wall decals
Wall decals are fab for a small house. They're printed adhesive material in all shapes and sizes! Flowers, animals, nature scenes, sayings, or letters. The adhesive makes them easy to stick and remove without any damage.
Wall decals make a room look bigger by adding atmosphere. They bring dynamism and creativity with an open effect. Have fun with colors and textures. Wall decals look great against monochromatic backgrounds as a splash of vibrancy.
For creative ideas or inspiration for a room revamp, wall decals are worth considering. An affordable way to give the property a modern makeover! Without breaking the bank or taking hours off work!
5. Add Color and Texture
Tiny house? No problem! Add life with bold colors and textures. Varying colors and designs will give your home a sense of depth, making it seem bigger.
Faux fur and velvet pieces create interest, making it cozy and inviting. Let's dive in and explore ways to beautify that small house!
Use bright colors
Bright colors are your pal when decorating a small house. Adding these vibrant, bold colors to walls and fabrics creates a cozy, inviting atmosphere. Don't be fooled by the myth that small houses should have light, monochrome colors. Put vibrancy into a small house; it will look and feel larger!
When selecting colors for a small house, there are plenty of shades and hues. Check out the lighting – natural sunlight or artificial? The windows and the amount of light they provide will tell you what color works best for each room.
As you paint each wall or select fabric for upholstery, view how each new thing alters the whole atmosphere. For instance, you want a bright red couch in the living room. Mix brighter shades, such as Magenta or Scarlet, in other areas too – like accent pillows crafted from red-orange fabrics. You can also use mustard yellow armchairs with soft powder blue walls for contrast. These colorful combos add aesthetic richness and make confined or constricted spaces appear bigger.
Incorporate textured fabrics
Textured fabrics are a great way to add depth, texture and warmth to a room. For instance, linen and velvet curtains can help absorb sound in busy spaces like a family room or bedroom. Incorporate tactile appeal with fabrics such as tapestry, sisal, boucle, and mohair. Layer rugs for an instant elevation of the flooring and dimension to the space.
Textured fabrics drape wonderfully over furniture, adding softness and comfort. Upholstered furniture featuring velvets, linens and prints are great for texture in your space. Chunky throws and blankets made from luxurious materials will tie it all together for maximum visual interest without overwhelming your design palette.
Use patterned rugs and carpets
Rugs and carpets are a great way to bring color and texture to a small home. Try bold, geometric patterns, such as animal prints, florals, or tribal designs. Pick colors that work well with other hues in the house. These patterned pieces can be used on floors in living rooms, bedrooms, and bathrooms.
If you prefer a more subtle approach, go for a neutral palette. Cushions, throws, and other accessories can layer colors. Rugs can also tie furniture pieces together, plus add warmth on cold mornings.
Remember to measure your space before you shop for a new rug. It's an affordable way to bring new life to any space. This will be one of the amazing interior design ideas for small house.
Frequently Asked Questions
Q1: What are some interior design ideas for small houses?
A1: Some interior design ideas for small houses include using light colors to make the space look bigger, utilizing multipurpose furniture and storage solutions, and maximizing natural light. Additionally, using rugs to define spaces and hanging mirrors can also help create the illusion of a larger space.
Q2: How can I make my small house feel more spacious?
A2: To make a small house feel more spacious, try using light colors for the walls, floors, and furniture to create the illusion of a larger space. Additionally, utilizing multipurpose furniture and storage solutions, maximizing natural light, and utilizing mirrors and rugs to define spaces can also help make a small house feel more spacious.
Q3: What kind of furniture is best for a small house?
A3: The best furniture for a small house is often multipurpose furniture, such as ottomans with storage, sectional sofas, and dining tables with leaves. Additionally, using furniture with legs, such as tables and chairs, can help make the space look less cluttered and create the illusion of a larger space.
Summary
Interior design can be a daunting task for those who are not experienced in the field. However, by using our mentioned few clever tricks and some simple, stylish ideas, you can create a beautiful home that is perfect for your small space.
We have looked at five genius interior design ideas that are perfect for small houses. By following these tips, you can create a home that is both functional and stylish. We hope you find this article helpful and that it inspires you to start designing your own home!
If you have any question then you can contact us.